I really like the idea of meal planning for a week in advance. I did find that it was harder to follow through than I thought it might be. There are so many dynamics involved - what time Josh gets home from work, how hungry the girls are - and if I need to get their food on the table before I can fix our dinner, and even the chaos that ensues when I am trying to simultaneously fix separate dinners for everyone - the girls, Josh (depending on the protein being served) and me. Yes, I know, meal planning in supposed to make it so there's less craziness in my kitchen at dinner time, but on a few nights last week, my blood pressure was elevated during dinner prep time. In any case, see below for pictures and meals. Overall, this was a great first week with meal planning. I am looking forward to seeing how this upcoming week goes!
Monday ~ July 5th:
Strawberry/Gorgonzola salad and Turkey BLT Sandwiches
I forgot to take pictures on Monday...oops! But, here's what I did...
For the salad ~ I used Organic mixed greens, added chopped strawberries & a few raspberries, chopped pecans, and a little light balsamic dressing. For the sandwiches, I cooked 4 slices of turkey bacon (3 for Josh, 1 for me) and added it to a sliced whole wheat pita with lettuce and tomatoes from our garden. The salad was really good - we're having it again this week!
Tuesday ~ July 6th:
Sweet corn & arugala salad and herb crusted tilapia
These were both really good! For the salad, I simply made a veggie salad with mixed greens, red onion, cucumber and tomatoes from our garden and added corn that I sliced off the cob. I used a light balsamic dressing. The tilapia recipes follows. I served it with fresh orange pepper slices.
Tilapia:
1 lb frozen tilapia fillet (thawed)
1 egg
2 tbsp skim milk
1/2 cup whole wheat bread crumbs (I used whole wheat panko)
1 T 21 Seasoning Salute
2T extra virgin olive oil
Beat egg & milk together in bowl. On a plate, mix bread crumbs & seasoning. Dip fish pieces in egg mixture, then into bread crumb mixture. Heat oil in skipplet over medium-high heat. Cook fish for a few minutes on each side. Fish is done when white & flaky.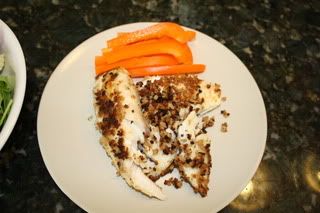 Roasted corn & marinated bean salad and lettuce wraps
This was good as well. I served my bean salad with brown rice. I used lettuce wraps and added sliced beets with shaved parmesan cheese.
roasted corn & bean salad:
1 - 15 oz. can marinated bean salad (from Trader Joe's) - don't drain
2 cups roasted corn (I used frozen, thawed white corn - and I used maybe 1 cup)
2 persian cucumbers, peeled & diced
Combine all ingredients - Done!
Thursday ~ July 8th:
Mushroom & Onion Flatbread; Chicken for Josh, Salad for Me
The flat bread was good, however, if I make this again, I will use whole wheat pizza dough instead of the garlic & herb...and will just add chopped garlic and spices to the flatbreead.
Mushroom & Onion Flatbread:
1 - 1 lb. bag garlic & herb pizza dough (Trader Joe's)
1/2 small onion, thinly sliced
2 cups sliced baby bella mushrooms
extra virgin olive oil
salt
1/4 cup parmesan cheese (I used crumbled goat cheese)
Preheat over to 500. On oiled baking sheet or floured surface, stretch dough with hands to approx. 12" (it's rustic, no need to roll out). In skillet, saute onion with 1T olive oil, until onions are soft. Add mushrooms and saute until mushroom begin to brown. Add onions & mushrooms to pizza dough and drizzle with olive oil. Sprinkle with salt (I omitted the salt). Place in oven for approx. 15 minutes (I think mine was done in 12 minutes). Remove from oven and sprinkle with parmesan cheese.
Fiery Mango Mahi Mahi & salad
Can't get much easier than this! I could not find the salsa at Trader Joe's, apparently they only carry it out west. So I bought an all-natural peach-mango salsa at Safeway. Since this was mild, and the recipe calls for a spicier salsa, I added some chopped cayenne pepper (the spice that you buy in a tube the refrigerated section at the store) - whew - it was HOT!
Fiery Mango Mahi Mahi:
4 frozen Mahi Mahi fillets, thawed
2 tsp olive oil
1 tsp fresh lemon juice
2 cups fire roasted papaya mango salsa (Trader Joe's)
salt & pepper
Preheat grill pan on high heat. Mix olive oil & lemon juice and drizzle over fish, coating all sides. Season with salt & pepper (I used a seasoning blend instead). Cook fish for 3 minutes on both sides. Remove from heat and top with salsa. I opted to place fish into a baking sich and then top with the salsa. I put it in the oven for a few minutes just to warm the salsa a bit before serving. It was really good! The leftovers will be good on a salad.
That's a salad plate, by the way. I often use salad plates at dinner time so that I don't put too much on there.